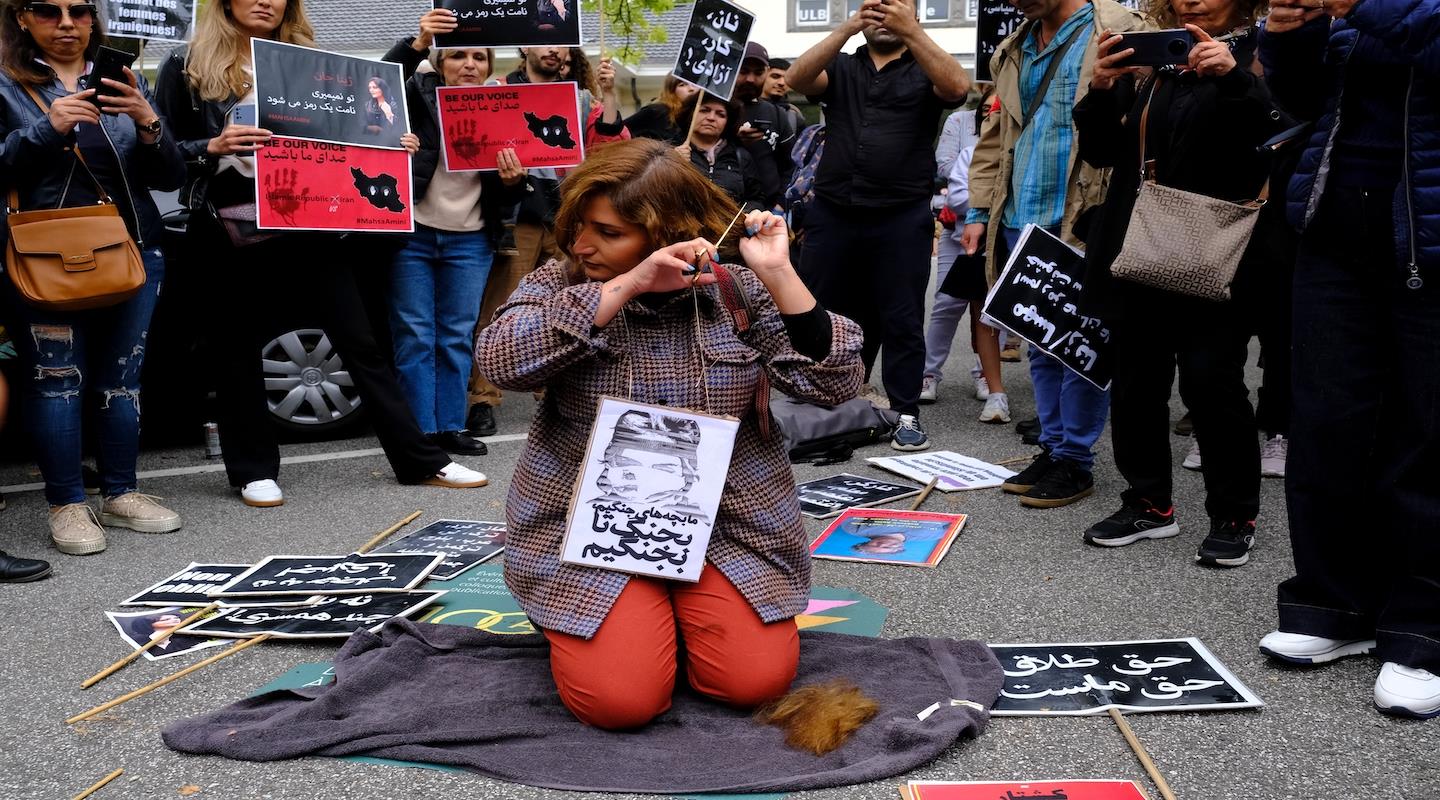 This research series analyzes the role of women in the Arab Spring uprisings and how their participation in the protest movements of the last decade impacted their rights and status. We use case studies of Iran, Iraq, Tunisia, Algeria, Egypt, and Sudan. Through the case studies, we look at secondary sources on women's activism and the current debate on women's rights and status in the region. Iran is the third case study in this research series.
The article explores Iranian women's decades-long activism for greater rights and status, with a focus on their struggles since the 2009 Green Movement. Although the Arab Spring largely bypassed Iran due to internal issues, democratic movements in the region inspired Iranian women to stand against their country's oppressive regime. From political representation to personal matters such as marriage, divorce, and inheritance; and access to higher education and employment; to mobility and international travel, Iranian women have long faced discrimination and continuous government crackdowns on dissent and defenders of human rights. Iranian women, however, have not been deterred in the efforts to achieve reforms and greater freedoms.
Here, we look at the growing strength and momentum of Iran's women's rights movement and the issues that have been catalysts for broader political action in Iran. We also analyze the ongoing protests over the death of Mahsa Amini and the security forces' expanding crackdown on Iranians' civil rights. Regardless of the outcome, Iranian women have become the leaders of the resistance in the country. It is important to note that as current events in Iran continue to change daily, the information in this article may be outdated by the time of publication.
Introduction
Revolution is not a new concept in Iran. In 1930, the Shah of Iran, Mohammad Reza, launched his "White Revolution," which was a broad government program that included land reform, infrastructure development, voting rights for women, and the reduction of illiteracy. After Islamic leaders criticized the program for its secular character, the Shah became more repressive of religious discontent and used his secret police to suppress opposition. Opposition to the Shah's secular oppression increased, leading to anti-Shah demonstrations in Iran's major cities in 1978 and the 1979 revolution that toppled the regime. The 1979 Revolution, also known as the Islamic Revolution, brought fundamentalist cleric Ayatollah Khomeini to power and dealt a drastic blow to the significant rights that Iranian women had enjoyed under the Shah —including the right to political representation, higher education, marriage, inheritance, divorce, child custody, and much more.
Since the 1979 revolution, Iranian women have struggled to regain their lost roles in a society now ruled by a government that turns a blind eye to women's issues. Khomeini wasted no time in rolling back rights related to family law and enforcing strict laws and punishment regarding Islamic dress codes. The government reduced the legal marriage age to nine years old, and women were forced to leave several government positions. Although women retained the right to vote and to run for parliament, officials ignored their voices. After these stricter laws were put in place, activists preserved and fought for women's rights in Iran. Their activism led to at least some progress as more women attended schools, slightly more women were elected to office, and the minimum age of marriage was increased to 13 years of age. Between 1996 and 2000, women were one of the most prominent groups in the Iranian civil rights movements. These groups included female university students, intellectuals, journalists, and political activists who raised the standards of political activism in Iran. Both religious and non-religious feminists made up a substantial portion of this movement.
Iranian women have traditionally been deprived of many of their basic rights and have suffered from male-centered ideologies, male dominance, and widespread discriminatory policies that affect their lives from birth to death. Under the country's legal and civil code, Iranian women do not have equal rights with men in marriage, divorce, inheritance, and child custody. Although they constitute 65% of the population, only 12% are part of the Iranian workforce. Women are often deprived of decision-making roles in politics, economics, and household affairs. A married woman, for example, cannot obtain a passport or travel internationally without her husband's written consent. According to the civil code, the husband is given the right to choose the place of residence and can prevent his wife from engaging in certain occupations that he considers contrary to family values. Iranian women were not "organized as a gender group" in terms of being revolutionary leaders with goals that differed from the goals of Iranian men. Women's engagement in revolutionary activities in Iran, therefore, gave them greater influence and power to the extent that religious leaders were persuaded to legitimize limited female participation in social and political processes in post-revolution Iran.
In 2009, the Green Movement and the Lipstick Revolution are thought to have occurred simultaneously or around the same time —after Iran's June 12 presidential election. Perhaps the more significant of the two is the Lipstick Revolution, a time when huge rallies erupted with thousands of women voicing their opposition to the government of incumbent President Mahmoud Ahmadinejad and their support of reformist opposition candidate Mir Hossein Mousavi. Mousavi's wife, Zahra Rahnavard, was among the forefront of supporters for her husband's campaign, and later became the image of change in Iran. She made sure to highlight women's rights issues in her campaign speeches and wooed many female voters to Mousavi's side. The rallies were labeled the "Lipstick Revolution." Women of all ages were visible at the rallies and were chanting, shouting, carrying placards, and defying the police —even as they faced brutal retaliation for their actions. The women who participated in protests were physically assaulted but returned the next day to continue protesting. The movement was about more than wearing lipstick and throwing their veil off. It was about a quest for equal rights.
Around the same time, the Green Movement kicked off with millions of Iranians defying the security forces and flooding the streets. Opposition candidates Mousavi and Mehdi Karroubi called for protests against election results, as they and others doubted the fairness of the vote counting. Many individuals wore green, the color of the Mousavi campaign, thereby leading to the name of the movement. The security forces responded with force; beating and killing protestors, staging show trials, rounding up leaders, and sentencing activists to lengthy prison terms.
The legacy of the Green Movement lingers today. Many supporters of the movement propelled the moderate Hassan Rouhani to the presidency twice; slogans used during the movement such as "death to the dictator," and symbols of the movement, such as green ribbons, appear occasionally at labor, environmental, and political protests throughout the nation. The 2009 Presidential election campaign, the nearly simultaneous uprisings against the government, and the subsequent repression of women's rights foreshadowed what life would be like in contemporary Iran.
2011-2014: Iran in the Shadow of Regional Upheaval
The period from 2011 to 2014 was marked by significant economic turmoil in Iran. The economic woes were the result of oil-export sanctions the United States and the European Union imposed on Iran in 2012 to curb its nuclear ambitions. That same year, Iran's crude oil exports dropped to their lowest level since 1986. The sanctions also caused multiple foreign companies to cancel or halt oil projects in Iran, and the country's economy continued to spiral downward. The Iranian people were no longer able to maintain their standard of living amid an inflation rate of 40% on an array of products and services. Economic and employment opportunities for women dwindled, making it more difficult to continue their fight for civil rights. Women's health took a blow as well, given a severe lack of access to effective contraceptives. Women were forced to use contraceptive treatments with which they were not familiar, and numerous women became pregnant while using those treatments. In 2012, Iranian women and men took to the streets to protest a drop in the value of the country's currency and the economic difficulties ordinary Iranians were being forced to endure. The Iranian people were angry at the government's inability, or perhaps unwillingness, to help them during the economic crisis and upset that the country's actions related to noncompliance with nuclear nonproliferation agreements had affected their lives so greatly.
A year earlier, Iran witnessed the effects of the first wave of the Arab Spring uprisings on other countries throughout the region. Iranian leaders initially responded positively to the events, believing that "upsetting the status quo" in the region would benefit the country and lead to powerful "Islamist forces" that would continue to view Israel as an adversary. Iranians throughout the country, however, began to mobilize their own protests. In February 2011, Iranian opposition leaders Musavi and Karroubi asked Iran's Ministry of Interior for permission to hold a rally in Tehran's Azadi Square on February 14 in support of the protests in Egypt and Tunisia. That rally later became known as the Day of Rage. While the two opposition leaders did not receive permission to hold the rally, many Iranians still came out to protest. Two protestors were killed, and dozens more were arrested. The Day of Rage, however, was only the beginning. Protests continued from March 2011 until October 2012. Most of the protestors were men, though some women did participate.
Despite their scant participation in public protests, Iranian women were politically active in 2011 and 2012 but not as much as they were in 2014 after the Iranian Parliament passed a law that protected individuals who wanted to "correct" those who did not adhere to Iran's laws, particularly those laws directed specifically at women and how they were dressed in public. It was a dangerous time for Iranian women. In the city of Isfahan, for example, men began to splash acid on women they believed were not dressed appropriately. Women were outraged and began to mobilize, initially on social media. Not long afterward, thousands of men and women protested in the streets of Isfahan against the attacks. That same year, after women were banned from attending World League volleyball matches on June 13, several women attempted to enter the stadium on June 20 in protest. Many of the women who came out that day were harassed, physically assaulted, and arrested. Following the protests, more than 130 women wrote a letter asking the president of the International Volleyball Federation to "protect the right of Iranian women to enter sports stadiums and volleyball matches."
Iranian women also used social media to protest other forms of government-sanctioned gender discrimination. For example, a Facebook page called My Stealthy Freedom was created by Masih Alinejad, an exiled Iranian American journalist, to oppose Iran's mandatory dress code. The online movement garnered more than 130,000 "likes" in one week from both women and men. Women used the page to protest Iran's dress code by posting pictures of themselves without a head covering. Women posted these pictures to express their frustrations at not being able to choose how they wanted to dress, with some feeling as though they were "hostages." Women were drawn to social media as a protest vehicle because it enabled them to freely, and safely, express their frustration with the Iranian government and protest government-sanctioned gender discrimination. Taking to the streets was too risky, as the chances of being harassed, assaulted, or arrested were significantly greater.
When Hassan Rouhani was elected president of Iran in June 2013, many women believed that women's rights would improve and their political participation would increase. Throughout his campaign, Rouhani claimed that all aspects of discrimination and areas in which men held more power than women should be eliminated. In March 2013, however, U.N. Secretary-General Ban Ki-moon expressed his concern that women continue to be underrepresented in Iran's political bodies and that Iranian women—particularly women's rights activists—experienced higher rates of executions, detentions, and discrimination than Iranian men. While Rouhani attempted to show his support for women by appointing Marzieh Afkham, a career diplomat, as Foreign Ministry spokesperson and encouraging initiatives to increase women's participation in the Iranian government, other actions he took meant that women would continue to face an uphill battle in the fight for greater rights and political representation. Also in June 2013, the Islamic Penal Code was revised, with no objections from Rouhani, to state that "women's testimony in a court of law is half that of a man's [testimony], and a woman's life [is] half that of a man's [life]." Clearly, Rouhani's attempts to show his support for women's rights through his words belied his actions, indicating once again that Iranian women were regarded as less than equal to Iranian men.
2015-2018: Government Clampdown on Peaceful Assembly and Free Speech
The Iranian government continued its crackdown on peaceful gatherings and free speech, engaging in arbitrary and unlawful killings, torture, forced disappearances, arrests, and trials without the benefit of due. The prime targets were journalists and activists. Various reports documented the execution of at least 469 people in 2015, including individuals charged with crimes committed while under 18 years of age. At least 830 prisoners were executed by hanging following flawed trials in revolutionary courts. Although the government has prohibited since 2001 the public disclosure of any information about stoning death sentences, Justice for Iran, a London-based human rights nongovernmental organization, reported that two unnamed women were sentenced to stoning in 2015.
The clampdown on free speech and dissent also showed signs of increasing in 2015, particularly against women activists. Several newspapers were banned, including the popular monthly women's magazine Zanan which advocated for issues related to women's rights and civil reforms, and the licenses of female journalists were revoked for "offensive" and "defaming" comments made about government authorities. Zanan's founders and editors, Mehangiz Kar, Shahla Lahiji, and Shahla Sherkat, are among the pioneers of the women's rights movement in Iran. In addition to countless other activists, the three women often led the debate on gender equality, domestic abuse, greater political representation, protection of women's rights, and more through their continuous activism.
Even online activism was no longer as safe as it once had seemed. In May 2015, for example, Narges Mohammadi, a member of the banned Defenders of Human Rights Centre, was arrested because of her nonviolent activism online. She was imprisoned and released several years later because of a medical condition. Also in May, a revolutionary court sentenced Atena Daemi, an Iranian civil rights activist, to 14 years in prison for her activism online. Atena Farghadani, an Iranian artist and political activist, was sentenced to 12 years and 9 months for her cartoons depicting members of Iran's parliament as animals
Meanwhile, restrictions on women's rights were growing at an alarming rate. In May of 2016, for example, the morality police launched an undercover campaign to enforce female dress codes and detect indecent behavior. On May 27, 30 students were arrested and given 99 lashes each for attending a mixed-sex party and violating the dress code. In response, the phone app Gershad was created as a form of women's nonviolent resistance to the morality police. The app has since helped countless women avoid morality patrols by crowdsourcing the locations of the morality police and displaying them on a map to warn other women of the police presence.
Iranian women were steadfast in their demand for action from Rouhani. By the third year of his four-year term in office, Rouhani had yet to deliver on his campaign promise of greater civil, political, and women's rights. When the 2016 parliamentary election went to the second round of voting, Rouhani began tightening his grip on power, with his allies securing an additional 38 seats in the legislative body.
Even though Rouhani vowed to increase women's presence in decision-making positions, concessions were made in other arenas, leaving women still largely marginalized. All 137 female candidates for the presidential elections in May of 2016 were disqualified by the Guardian Council, though some female candidates were allowed to run for local positions. In June, the government allowed 300 women to attend a volleyball game, but only 30 tickets were sold to the public. These concessions show that Iranian women faced significant legal, religious, and cultural barriers to socioeconomic and political participation.
An Increase in executions, restrictions on rights and freedoms, and the targeting of journalists, activists, women, and human rights defenders gradually exhausted the public's patience. Rouhani's reelection in 2017 led to several women's rights protests, such as the #whitewednesdays social media campaign, which encouraged and prompted women to post "pictures and videos of themselves wearing white headscarves or pieces of white clothing as symbols of protest" against the government's mandate that women wear the traditional hijab. The white clothing was intended to be a symbol of the protest movement. The idea for the #whitewednesdays campaign came from Masih Alinejad, founder of the My Stealthy Freedom online campaign to protest the government's mandatory dress code for women. It was #whitewednesdays, however, that turned the local initiative into a global movement where women around the world were using the hashtag #whitewednesday as a show of support for Iranian women.
By the end of the year and continuing through January 3, 2018, Iran was beset with nationwide protests. The protests, also known as the Dey Protests, initially were over issues such as economic hardships, corruption, and rising unemployment but soon devolved into an anti-government movement, embracing political slogans. Women's groups played a crucial role in forwarding this social, economic, and gender-sensitive political agenda. The protests eventually died down; however, political dissent kept growing, particularly among women.
2019-2021: Wave of Mass Arrests and Executions
Despite the rising cost of peaceful assembly, many women persevered by joining street and online campaigns, working through NGOs, such as the Women's Cultural Centre, the Atena Foundation, and the Mehr-o Mah Centre for the Empowerment of Women and Children, all of which have been focused on shaping opinions, analyzing, and documenting women's issues in Iran. Several human rights defenders and women's rights activists were arrested over a three-year period ending in 2021 for protesting the hijab mandate hijab and sentenced to 10 years for "encouraging and providing for [moral] corruption and prostitution." The arrests came after three women posted a video of themselves not wearing a headscarf while handing out flowers to women on the subway. Their actions were intended to encourage solidarity against strict dress codes and restrictions on women's bodily autonomy. In another example, 29-year-old Sahar Khodayari was arrested in March for trying to enter a football stadium and charged with "wearing improper hijab" and "confrontation with the police." After being threatened with a six-month prison sentence, Khodayari set herself on fire in front of the court on September 2, 2019. Her death sparked a domestic and international outcry, with activists and football players calling on the International Football Federation to pressure Iran to lift the ban on women in stadiums. On October 10, authorities gave a limited number of stadium seats to women, about 3,000 of the total 85,000 seats in the stadium, for an international football game. Despite this significant progress, the general ban on women's participation in sociocultural events such as Iran's national league matches remains.
A series of nationwide protests, known as Bloody November or Bloody Aban, erupted in November 2019 after the Iranian government ordered gasoline rationing and price increases of at least 50%. What started as protests about dire economic conditions soon evolved into a broader expression of popular discontent at the government's repression and corruption. Peaceful gatherings eventually turned into unprecedented violent outbreaks to which the government responded with brutal crackdowns. Although the government refused to announce the total number of deaths, at least 300 protestors—possibly up to 450 or even 1,500, including 400 women—are believed to have been killed. The government also imposed a near-total internet shutdown for five days and arrested around 7,000 people, all of whom remained at great risk for mistreatment. The protests were soon quelled, with the severe death toll and mass arrests a reminder that the government will not tolerate dissent.
The following year, Iranians faced not only severe inflation, rising unemployment, and rights violations but also a public health crisis—the COVID-19 pandemic. One bright spot was the Iranian judiciary's announcement in April 2020 that it would release or pardon up to 100,000 prisoners; however, the judiciary also ordered the implementation of social distancing measures within prisons where thousands of human rights defenders remained detained. Government corruption and mismanagement of the pandemic led to deteriorating living conditions among the general population. Women, however, were disproportionately affected by the pandemic. Within a year, nearly 1 million out of 5 million female workers were pushed out of the job market—a 20% drop in the already limited female labor-force participation rate.
Fewer women working, of course, meant more women at home and for extended periods amid COVID-19 lockdown restrictions. As was the case in countries around the world, the number of domestic violence cases increased in Iran. Because Iran does not have a law governing the prevention of domestic violence nor a law calling for the protection of domestic violence victims, countless Iranian women faced barriers in terms of reporting domestic sexual abuse, seeking professional help, finding housing, and requesting legal assistance. Rouhani's response was to call for new protections for "children and adolescents" after a 14-year-old girl was allegedly beheaded by her father on May 21 in a so-called honor killing. The girl's death sparked a national outrage that led to the approval of a bill that was supposed to provide more protection to women in cases of domestic violence and domestic sexual abuse.
In August, Iranian women and journalists from various backgrounds took to social media to break the silence against sexual violence. They launched their own #MeToo moment to report their experiences of sexual harassment and assault. Authorities took an important step by arresting a suspect accused of rape by multiple women on social media and urged other women to file a complaint with the police, promising to respect their privacy. At the same time, however, Iranian women continue to struggle with how to handle judicial processes, as Iranian prosecutors and judges expect high standards of evidence to prove coercion and abuse.
The country's presidential election in June 2021 resulted in a decisive victory, with 62% of the votes, for hard-liner Ebrahim Raisi, former head of Iran's judiciary and a protégé of Supreme Leader Khamenei. The election, however, was deemed unfair and unfree by many Iranians after 3.7 million ballots were deemed invalid either because they were left blank or contained protest votes. Raisi was known for having committed human rights abuses in his role as head of Iran's judiciary, a post that he had held since 2019. The abuses, which included arbitrary detention and torture, were documented by the United Nations. Raisi's victory raised concerns among many Iranians about having hardliners in control of executive positions in the government.
At least five women's rights activists remained detained in 2021 for their peaceful protest against the mandatory hijab law and strict dress code. On September 26, a prominent human rights defender, Narges Mohammadi, announced that authorities had called her to serve a 30-month prison sentence on charges such as "signing a letter opposing the death penalty," "staging a sit-in at the prison office," "refusing order (to end the sit-in)," and "property damage." These and many other similar arrests and detentions show that since taking office, Raisi has focused on silencing the opposition, including women activists who defy the mandatory hijab law and other repressive government policies.
The 2022 Movement
Protests have erupted throughout 2022, even though they were smaller movements, such as labor protests. In August 2022, hundreds protested the water shortage in Central Iran and one of the chants was "Death to Raisi." This chant, along with others such as "death to the dictator" and "women, life, freedom," or in Persian "zan zendegi azadi," began after the death of a 22-year-old woman, Mahsa (Zhina) Amini, from the Kurdistan Province who traveled to Tehran on September 13, 2022. Amini was taken into custody by the Moral Security Police, or as referenced in reports and social media, 'the morality police.' She was arrested for not observing the dress code and taken to a detention center. Following her arrest, she arrived at an intensive care unit in Kasra Hospital, partially alive and admitted in a coma with level three consciousness. Almost immediately, the morality police were accused of beating the woman to death, based on previous incidents that were similar to what happened to Mahsa Amini. From the moment Mahsa Amini was announced dead, widespread street protests were set off and have continued to this day.
In July, protests broke out in multiple provinces over water shortages and power cuts. Although economic difficulties initially pushed people into the streets, the protests quickly took on a political character as people demanded the overthrow of the government. By November, the number of women in demonstrations had increased and many cities saw women leading the chants, "I am Thirsty" and "Death to Khamenei!" The government used brutal force and a large number of riot police to suppress the protests. A total of 67 people —including children—were arrested. Many others were wounded. The government, however, was unrelenting, carrying out mass arrests, prosecutions of rights activists, and increased restrictions on women's freedom. These actions served only to spark more protests as part of the wider Iranian Democracy Movement. Protests that started roughly on September 17, for example, are ongoing and have turned violent, with security forces wounding and killing the protestors. Videos on social media have shown shots being fired by the police in various cities throughout the country. After 20 days of unrest, the protests had spread to all of Iran's 31 provinces, 105 cities, and 69 major universities.
Although the death of Mahsa Amini sparked the protests, the Iranian people's grievances are deeper than the tragic and senseless death of one individual for the cause of women's rights. The goal is to effect change by continuing to target the Iranian government's political and ideological foundations. The protests on the streets of Iran today differ vastly from protesters in the last decade. Today, the protesters are aligned in solidarity against the government's attempt to repress people either through physical force or other forms of oppression such as shutting down the internet and restricting access to social media. Amini was a Sunni Kurdish woman, and her gender, faith, and ethnicity are all grounds for discrimination in Iran. The Iranian public showed a united front and disregarded all these differences that tend to divide people. Iranian youth, with an average age of 15 years, have played a key role in these protests. Moreover, almost all classes of Iranian society have united in support of women's rights.
Members of the Iranian diaspora also have expressed solidarity with the protestors in their home country by mobilizing protests in countries around the world and spreading videos and news about what is happening in Iran through the stories of relatives and friends still residing there. For example, Iranian American actress Nazanin Nour has spread messages, news, and videos on her social media accounts and has appeared on various news stations and television shows. Various other Iranians around the world have engaged in similar activities, although it puts their lives at risk. The diaspora's activism shows the dedication of Iranians who, despite the internet and social media outages, continue to share information while dealing with internet and social media outages.
The 'You've Got Mail, Iran' campaign is an example of a global form of protest in which women and allied individuals are cutting off pieces of their hair and mailing them to various Iranian diplomatic establishments worldwide. While this campaign started in the United States with individuals mailing their hair to Iran's UN mission, individuals globally have continued the trend by sending their hair to their country's Iranian embassy within their countries and to other establishments.
Many individuals abroad have been demanding that their governments and the United Nations directly call out the Iranian government for its human rights violations. For example, university students around the world demonstrated to show their support for students at the Sharif University of Technology who had protested against the Iranian government and subsequently were attacked by Iranian riot police armed with tear gas, paintballs, and weapons that shoot nonlethal steel pellets. Countless similar campaigns, however, go unreported by local or international news outlets. Circulation of these unpublicized events on social media fills in the gap in coverage. With the global news agenda more concerned with the war in Ukraine, the impending economic crisis in Europe, and a myriad of other catastrophes and issues in the world, the task of carrying the Iranian Democracy Movement forward and helping it go viral has been taken up mainly by young people within and outside of Iran's borders communicating on Instagram, TikTok, Twitter, and even Reddit (more traditionally associated with male users). Some of the viral hashtags on social media include #iranrevolution, #MahsaAmini, and the chant of the revolution, #WomenLifeFreedom.
The forms of activism seen in Iran shed light on the dynamics of the fight for women's rights in that country. Activism on the internet is popular, as are street protests. Girls and women across Iran continue to risk their lives by appearing in public without a headscarf (while protesting or not), dancing, and standing on street corners hugging male strangers—all of which are illegal in Iran. Cyber warfare between the opponents and supporters of the status quo is another significant dynamic in the struggle for women's rights in Iran. Numerous government sites have been hacked, and global solidarity has propelled the movement's hashtags on social media. Collective online campaigns, such as Spreading Justice, have helped to propel the women's rights movement forward. Launched by Human Rights Activists (in Iran), the database of human rights violators in Iran aims "to end the widespread impunity enjoyed by perpetrators within the Islamic Republic of Iran" by investigating information received from digital sources.
The women's rights protest chant, "women, life, freedom," can be compared with the "bread, work, freedom" chant—one of the main slogans used during the 1979 Islamic revolution. The women's rights chant, whether used during public protests or in protests on social media, is a clear sign of the change that Iranians desire and how the movement truly is a revolution. The chant "comes from the Kurdish freedom movement, and is a result of decades of grassroots activities and efforts of Kurdish women in one of the most economically deprived regions of Iran, the Kurdish provinces." Supporters of the women's rights movement in Iran also have used other chants to voice their demands, from one source, "I will fight, I will die, I will take back Iran," "Death to Khamenei" and from another source, "Justice, liberty, optional clothing," "Liberty is our right, Zhina (Mahsa) is our code word," and "Servitude, unemployment, forced hijab on women." The use of these chants has led to many arrests, and many more likely to follow in the days and weeks ahead. One need only recall the deadly attack on students at the Sharif University of Technology, the fatal shooting of two inmates at Evin prison (where most political prisoners are held) in October, and the arrest of 14,000 women's rights defenders and the killing of 266 people (including 37 children) in just the first month of the protests to know that the country's leaders will stop at nothing to quell the popular uprising. The actual number of people killed, arrested, and imprisoned are likely much higher than the government's tally.
It is important to remember, however, that the revolution is not over. Iranian women will continue to fight in the spirit of slain women's rights activist Mahsa Amini for they know that the hashtag #MahsaAmini "is spilling forth the language, visual art, and tactics of a feminist revolution that centers life and creation instead of despair; freedom instead of control; and the hope for new futures instead of resignation and passive acceptance of the status quo." These protests are still in their infancy, making it difficult to predict whether the ongoing uprising will lead to a toppling of the government and changes in laws that have denied women the right to "bodily autonomy and sovereignty." As some Iranian officials have stressed, "the uprisings have already unleashed the example of suspending fear . . . to confront patriarchal power," and truly make a difference for the future of women's rights in Iran.
The #MahsaAmini protests have shown signs of being effective. For example, these protests also are among the longest continuous uprisings since the inception of the Islamic Republic of Iran but, perhaps more important, Iranian security forces have joined protestors, and the world is watching the Iranian government. A human rights lawyer who has championed Iranian women's rights for 20 years, says that while Iranian women are angry about Amini's death, they also have reached a breaking point. As the human rights lawyer described it, "because they [Iranian women] have nothing to lose, they are standing up and saying, 'Enough of this. I am willing to die to have a life worth living.'" As one news report notes, "Witnesses say the demonstrations [over Amini's death], which spread to at least 80 cities, . . . are the most forceful, vitriolic, and emboldened they can remember, far more intense than the previous tremors of unrest." This same source adds that "protestors have set fires to security vehicles, assaulted members of Iran's widely feared paramilitary forces, in some cases killing them." Several news outlets and individuals on social media have called the protests spawned by Amini's death the Second Revolution, it is too soon to say whether the protests will bear fruit and whether the revolution is won.
Conclusion
Amini's death brought thousands of people into the streets to voice their decades-long grievances with the government's oppression of women. Originally feminist in character, the protests gradually became a wholesale challenge to the Islamic Republic with the women defying mandatory veiling law as a symbol of the regime's broader oppression. The struggle for women's rights and freedom has become central to larger struggles for democracy and individual rights.
Social media undoubtedly has enabled Iranian women to amplify their collective voices and share their stories and experiences with others across the country and around the world. The government shutdown of the internet and restrictions on social media did not interrupt women's activism; rather, it sparked a further backlash from world leaders and human rights groups. Millions of Iranian diaspora and exiles, along with many activist figures, have risen up to join the protests with a dream of a different future.
Meanwhile, the authorities have blamed the unrest on foreign countries and called the protests an excuse for Western nations to impose more sanctions on Tehran. To expand the state narrative and suppress the masses, Iranian security forces have escalated the government crackdown. In the face of increased intimidations, arrests, and killings, thousands of men, women, students, activists, and journalists face significant risks. Despite fleeing abroad, the Iranian diaspora and exiles are still not free from the Iranian state's oppression. However, where Iranian women are standing today is also the result of decades of activism by both Iranian women's rights advocates and diaspora communities who have fought for rights and freedom.
Since the 1979 revolution, women have persistently defied mandatory veiling and stood against patriarchal oppression. They have won considerable rights in education, employment, the public sphere, and personal dress —all of which have been rolled back to an extent but will be difficult to completely overturn. The women's movement has pushed, with limited success, for further rights, including in the mechanisms of political representation, policy-making positions, marriage, divorce, child custody, travel, and veiling. Today, women's issues are among the top concerns in the people's struggle for democracy and the rule of law in Iran. The dynamic, highly educated, fierce women of Iran have succeeded in spreading the current protests far beyond the usual ranks of activists and the country's borders. They are leading the movement with courage and determination with the hopes of meaningful reforms headed in the direction of democracy and human rights.
From the government's perspective, the protests are unlikely to trigger reforms; the past will repeat itself, and the protests will be quashed once again. From the people's perspective, a repeat of history will only fuel the rage of the masses. Iranians, especially women, will no longer accept the status quo and are determined to end the government's oppressive rule. Whether the latest protest movement leads to a better future or not, Iranian women will continue their long struggle for freedom and democracy in Iran.
----------------------------------
Resources for the latest information on the women's rights protests in Iran provided by women's rights activists, journalists, and human rights organizations:
Mahsa Alimardani, researcher and advocate for Article19.org; Roya Boroumand, co-founder of the Abdorrahman Boroumand Center; Jasmin Ramsey, deputy director of the Center for Human Rights in Iran; Azadeh Pourzand, human rights researcher and writer, and director of the Siamak Pourzand Foundation; Gissou Nia, director of the Atlantic Council Strategic Litigation Project; Golnaz Esfandiari, a reporter covering Iran for Radio Free Europe Radio Liberty; Masih Alinejad, Iranian journalist and activist; The Abdorrahman Boroumand Center; The Human Rights Activists News Agency; The Center for Human Rights in Iran; 1500 Tasvir; and Iran Wire.
__________________________________
Orion Policy Institute (OPI) is an independent, non-profit, tax-exempt think tank focusing on a broad range of issues at the local, national, and global levels. OPI does not take institutional policy positions. Accordingly, all views, positions, and conclusions represented herein should be understood to be solely those of the author(s) and do not necessarily reflect the views of OPI