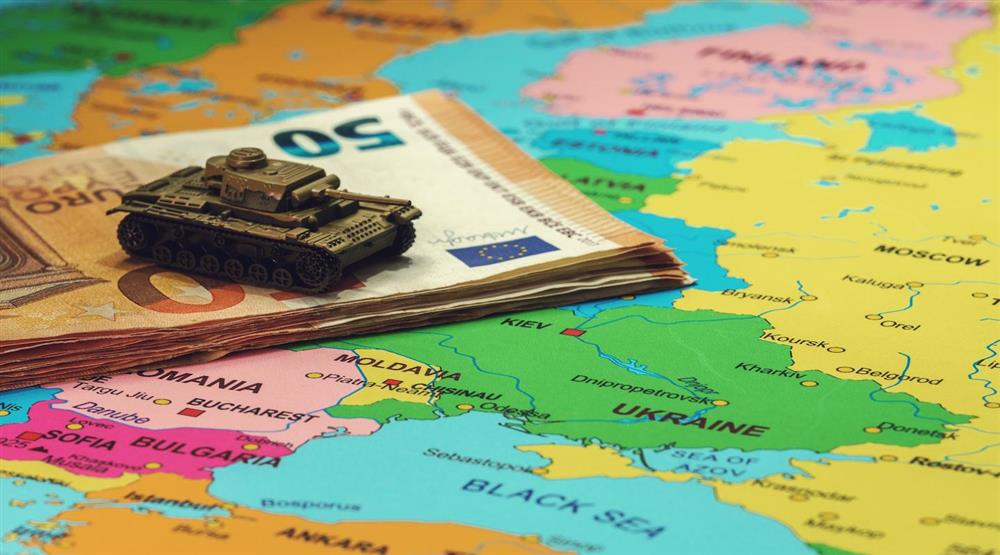 Chaos and instability have always been fertile ground for organized crime and criminal networks typically operating in Eastern Europe. The conflict in Ukraine is a golden opportunity for nefarious groups to exploit desperate and vulnerable people weary of death and destruction.
It is no coincidence that the rise and empowerment of organized crime syndicates from around the world have always been closely linked to some form of chaos—be it social, political, or economic. For example, in the post-World War II era, the need to rebuild entire cities allowed La Cosa Nostra to own the reconstruction business in Sicily from the early 1950s to the late 1980s. In Albania, after the fall of communism in 1990, criminal networks took advantage of widespread instability and without interference established a cannabis-cultivation operation that later gave Albania the distinction of being the first producer of the drug in Europe. More recently, the power vacuum in Syria has made members of the Islamic State and Hezbollah among the most prominent traffickers of Captagon pills, a strong amphetamine that reaches Europe and North America by way of shipments from Syrian, Lebanese, and Turkish ports.
The COVID-19 pandemic has shown that, unlike governments, criminal groups have not been affected by funds shortages. In the last two to three years, for example, governments have had to divert resources originally meant for social welfare programs and national security to cope with the unprecedented health crisis. Multiple lockdowns and disease-mitigation restrictions led to a significant reduction in worker productivity and a severe negative impact on public revenue. For criminal groups, however, it was business as usual—no interruptions, no setbacks, no worries about being able to pay affiliates, or any of the other typical concerns that legitimate commercial establishments faced—thanks to a steady cash flow from illegal activities. Criminal groups took advantage of the chaos generated by the pandemic to build even stronger ties with vulnerable, disadvantaged segments of society. Brazilian gangs, Italian mafias, and Mexican drug-trafficking organizations, for example, focused on their ability to meet the needs of marginalized groups with welfare assistance much faster than their respective national governments.
In Russia and Ukraine, where organized crime flourished during the chaotic transition to a market economy after the collapse of the Soviet Union, Russian President Vladimir Putin's war in Ukraine has created risks much like the ones that gave life and breath to powerful criminal organizations that plagued both countries in the past. Each phase of the conflict—from active confrontation to the cessation of hostilities—presents specific risks that must be monitored closely. For example, significant amounts of weaponry and ammunition supplies have been flowing from the United States and Western Europe to Ukraine. What will become of the munitions at or near the end of the conflict? Into whose hands will they ultimately fall? These questions are difficult to answer with any degree of certainty; however, as the conflict winds down, a situation akin to what happened in the Western Balkans in the 1990s after the war in Yugoslavia could repeat itself in Ukraine. If that happens, then a vast number of explosives, machine guns, bombs, and missiles will land on the black market and become easily accessible to criminal networks and terrorist groups around the world.
For civilians, the economic crises in Ukraine and Russia have left millions of people in both countries on the brink of ruin, making them vulnerable to trafficking and exploitation. Several non-governmental organizations, such as Homo Faber in Poland, have already sounded the alarm about human trafficking. Men and women pose as volunteers who have come to help the thousands of Ukrainian refugees seeking a way out of war-torn areas to safety. The fake volunteers offer the desperate refugees a ride but to where? To Medyka, Poland, just across the Ukrainian border. Upon arrival, traffickers lure the refugees into vehicles bound for an unspecified destination—most likely, not anywhere the refugees would have chosen or where they thought they might be going. It is important to remember that both Russian and Ukrainian criminal groups have been operating in Western Europe at least since the early 2000s. For example, in 2010 Italian authorities arrested about 80 people involved in the trafficking of "non-EU immigrants of Ukrainian origin" for sexual exploitation purposes.
Unlike the prospect of a black market flooded with arms and munitions at the end of the war in Ukraine, the black market for medical supplies and life-saving drugs has burgeoned since the beginning of March 2022. Insulin, for example, is nearly impossible to find in legitimate markets. Shortages of medical supplies also pose a risk to the continued delivery of drug treatment services and harm-reduction programs for Ukrainians with drug-use disorders. Without access to essential medications, Ukrainian citizens who remain in the country and those who have fled to safer neighboring countries could relapse and resume the use of illicit drugs from whatever sources they can find—including shadowy online vendors. Analysts working for the British police, for example, have found an increase in purchases of medicines—many of which are counterfeit and therefore especially dangerous—on Russian dark websites. In April 2022 UNODC stressed that the war in Ukraine could have two opposite effects on the supply and trafficking of illicit drugs in Ukraine. In one scenario, the chaos of war could lead to widespread impunity for persons who engage in the production and trafficking of illicit drugs. In Turkey, for example, drug-seizure data recorded before and after the outbreak of the war in Syria suggest an increase in drug trafficking after the war began because traffickers took advantage of widespread instability in the area. In this view, the existing heroin-trafficking route from Afghanistan, through Iran and Turkey, and finally through Ukraine (either by land along the Black Sea or by sea through the ports of Mariupol and Odessa) could be strengthened, thereby diverting drug traffic from the traditional Balkan route to a new route through Ukraine. In the second scenario, increased international attention to and military presence in Ukraine might prompt users of the country's traditional heroin-trafficking routes to abandon those pathways and opt instead for alternative routes that do not go through Ukraine.
What a post-war Ukraine will look like is open to speculation. It is still too early to assess, for example, how organized crime will exploit this phase. However, the need to quickly reconstruct what has been destroyed and what may be destroyed before the war ends will inevitably expose the holders of national and international funds to significant risks that range from corruption in public procurement and money laundering to mafias with the ability to invest in and acquire real estate in Ukraine.
What to do next? The top-two priorities are an end to the war and the reestablishment of peace in Ukraine. Until then, international bodies—such as INTERPOL and EUROPOL—that are responsible for fighting transnational organized crime need to work with similar regional organizations, such as the Southeast European Law Enforcement Center, to coordinate operations, promote collaboration on the ground between police forces (through the creation of information-sharing platforms), and establish safe channels of intelligence sharing. On a parallel track, non-governmental organizations should be required to monitor the development of organized-crime operations in those areas where hostilities occur and raise awareness of the potential risks that may arise.
______________________________________________________
Orion Policy Institute (OPI) is an independent, non-profit, tax-exempt think tank focusing on a broad range of issues at the local, national, and global levels. OPI does not take institutional policy positions. Accordingly, all views, positions, and conclusions represented herein should be understood to be solely those of the author(s) and do not necessarily reflect the views of OPI.