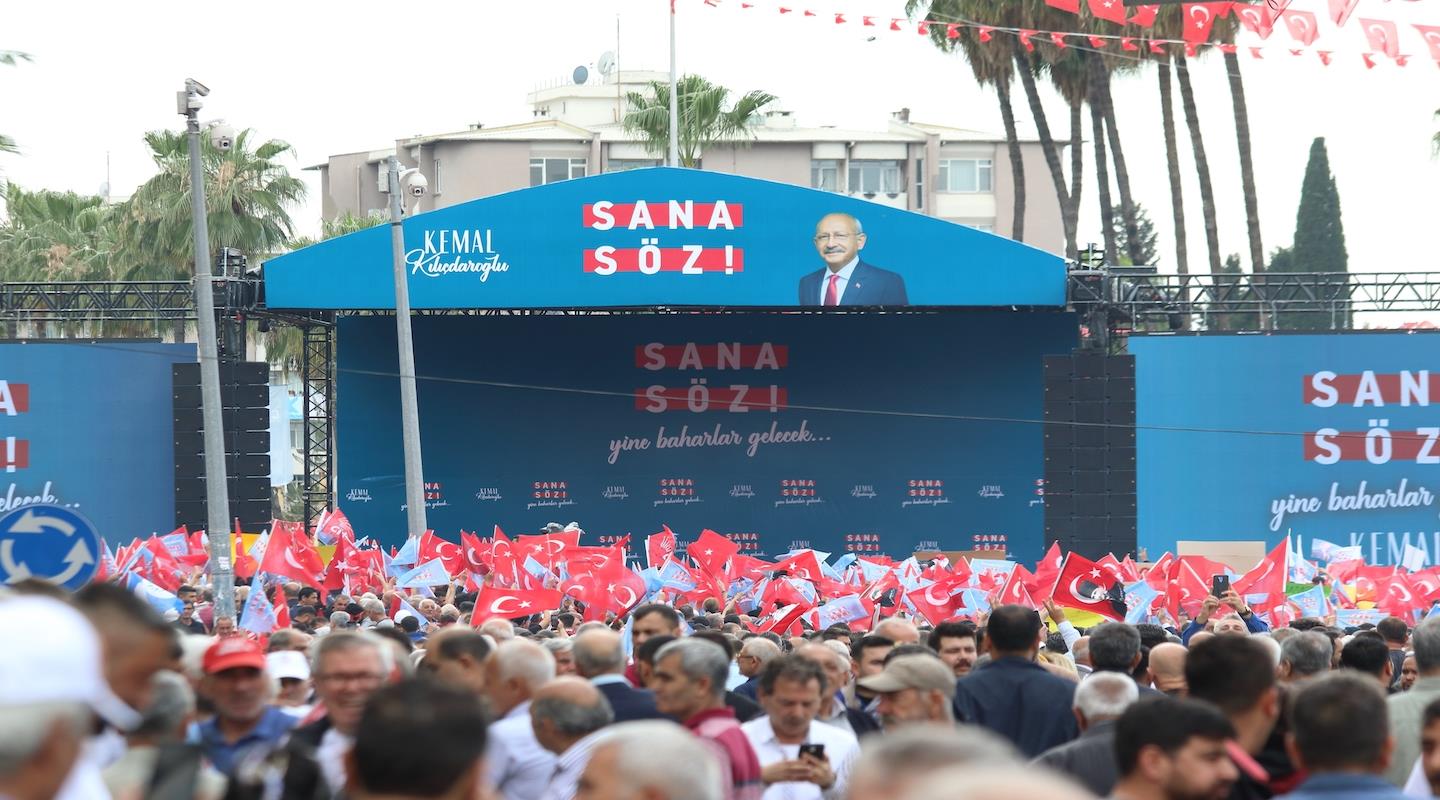 On Sunday, May 14, Turkey is gearing up for one of its most pivotal and momentous elections in recent history, poised to shape the country's future for decades to come. The outcome of this election holds immense significance, not only in determining the fate of the ruling Justice and Development Party (AKP) but also in charting the course of Turkey's social, political, and economic trajectory. Furthermore, its impact will reverberate deeply within Turkey's foreign policy landscape. Under deepening authoritarianism, nationalism, and political Islamist aspirations, the ruling AKP has steered Turkey away from democratic norms and the rule of law, fostering a belligerent and confrontational foreign policy stance towards both Western nations and regional countries in the Middle East. A potential opposition victory in this election promises to herald significant changes, potentially realigning Turkey's drifting foreign policy path.
Confronted with an economic crisis, escalating unemployment rates, and the devastating effects of twin earthquakes, the ruling AKP and President Recep Tayyip Erdogan persist in adhering to a playbook that spans the last decade of their rule—marked by provocation, division, and polarization. Failing to offer any new vision or narrative for Turkey, their approach revolves around stoking public fear, issuing threats against the opposition, and endorsing divisive and hateful rhetoric. In contrast, the opposition has gained momentum, particularly among the youth. Exhibiting notable improvement compared to previous elections, the main opposition bloc, the Nation Alliance, exhibits greater organization and motivation than the ruling bloc, the People Alliance. While past elections witnessed the opposition being reactive to Erdogan's narratives, it has now been more successful and dynamic in terms of campaign promises, messaging, and voter outreach. The opposition's presidential candidate, Kemal Kilicdaroglu, viewed as the underdog running against incumbent President Erdogan, has patiently crafted his own political style and messaging, promoting a unified and democratic Turkey with the rule of law.
During the AKP's tenure, Turkish foreign policy has undergone a profound and consequential transformation. Driven by nationalist and political Islamist aspirations, coupled with military activism and an increasingly anti-Western rhetoric, the authoritarian regime of Erdogan has led Turkey to drift significantly away from the West. In a bid to assert a new leadership role in the Middle East, Erdogan, and his party have found themselves increasingly isolated from the West, which forced the AKP government toward a substantial shift in their relationships with several actors in the region. Furthermore, Ankara's efforts to leverage its position against the United States and NATO have yielded limited gains, while its rapprochement with Russia has fallen short of the material benefits the AKP had expected. From acquiring Russian S-400s to evading sanctions against Russia, Turkey's attempts to assert a unique foreign policy have proven largely unsuccessful.
If Erdogan wins the election, his victory is unlikely to lead to any meaningful and positive changes in Ankara's foreign policy position. On the contrary, weakened by the economic crisis and facing growing public resentment, Erdogan will be compelled to intensify his steps toward more authoritarianism to consolidate control over the state apparatus, media, other social and political institutions, and dissident voices in Turkey. As the regime he has established lacks the flexibility to soften its tone or policies, hopes for substantial positive changes are unrealistic.
What if he loses? An opposition victory under Kilicdaroglu's leadership promises several substantial changes as he has pledged to prioritize democratization, the rule of law, freedom of speech, a free press, transparency, accountability, and the restoration of normalcy in relationships with traditional allies and neighboring countries. These commitments indicate a potential shift towards a more inclusive and cooperative foreign policy approach, aligned with democratic principles and strengthened international partnerships.
The Kurdish issue, intricately linked to both domestic and regional policies, is an area where an opposition victory could foster a more positive and dynamic environment for resolution. It is evident that the opposition alliance will approach the Kurdish issue differently from the AKP, which has exploited the issue as a political tool for its own political interests. Throughout its two-decade rule, the AKP has viewed the imprisoned leader of the Kurdistan Workers' Party (PKK), Abdullah Ocalan, and the PKK— not the Kurdish politicians— as decisive actors in any attempt to resolve the Kurdish issue in Turkey. Conversely, the AKP has considered Kurdish politicians merely as intermediaries between their government and the PKK. Employing politically calculated maneuvers, the AKP sought to gain Kurdish voters' support and establish a ceasefire with the PKK during election periods. The opposition, however, holds the potential to adopt a more inclusive and comprehensive approach to address the Kurdish issue by involving Kurdish politicians and seeking genuine reconciliation and constructive dialogue.
While the opposition bloc may not present a unified stance on how to address the Kurdish issue, the main opposition Republican People's Party and its leader Kilicdaroglu have outlined a clear path for managing this complex process. Specifically, they view the pro-Kurdish Green Left Party (YSP)— formerly known as the People's Democratic Party (HDP)— as key actors in achieving a resolution. Moreover, both the opposition bloc and the YSP have reached an agreement to pursue talks and seek a resolution for the Kurdish issue within the General Assembly of Turkey. This agreement has created a positive dynamic, evident in the declaration of support by HDP's former and imprisoned leader, Selahattin Demirtas, and YSP officials for Kemal Kilicdaroglu's candidacy. This development could mark a significant moment for the Kurds, not only in Turkey but also in the region.
Another significant change in Turkey's foreign policy is expected to occur in how these policies are formulated. Instead of adhering to established institutional norms and processes in foreign affairs, under AKP rule, the policymaking process has come to rely on Erdogan's whims, personal relations, and inner circle. With an opposition victory, a substantial transformation is anticipated in the relationship between the European Union (EU) and Turkey. This transformation involves taking steps towards EU accession, which is closely intertwined with the opposition's commitment to ensuring democratization, establishing the rule of law, and forging accountability within the country.
Furthermore, another crucial change on the horizon concerns Turkey's relationships with its traditional allies, namely the European Union, NATO, and the United States. Presidential candidate Kilicdaroglu and his team prioritize the normalization of relations with Turkey's neighbors, emphasizing a significant departure from Ankara's current foreign policies, characterized by belligerence and confrontation toward the EU and NATO during the AKP's rule. These proposed changes signal a significant shift towards a more cooperative and constructive approach in Turkey's international relationships.
Kilicdaroglu has consistently emphasized the improvement of Turkey's relationship with NATO and the country's commitment to comply with international sanctions against Russia. Additionally, he has expressed intentions to foster positive relationships with neighboring countries. A departure from leveraging Russia against NATO and the United States could indicate a stronger alignment with Western interests. Moreover, Kilicdaroglu will be less involved in military activism aimed at proxy warfare in countries such as Libya, the Central African Republic, or Sudan.
The foreign policy change will become much more evident in Turkey's relations with its neighbors in the Middle East. The opposition alliance has already declared its intention to pursue a closer relationship with Assad in Syria. This rapprochement could potentially help in finding a resolution for the Syrian refugee situation in Turkey and reaching a consensus on the future of Syria, involving various stakeholders such as the Syrian opposition, the Kurds in northern Syria, the Turkish-backed Syrian National Army, and other non-state proxies.
As the countdown to the election is underway, there is a glimmer of hope that Kilicdaroglu could potentially unseat Erdogan and usher in significant changes for Turkey's future that he promised.
__________________________________
Orion Policy Institute (OPI) is an independent, non-profit, tax-exempt think tank focusing on a broad range of issues at the local, national, and global levels. OPI does not take institutional policy positions. Accordingly, all views, positions, and conclusions represented herein should be understood to be solely those of the author(s) and do not necessarily reflect the views of OPI.