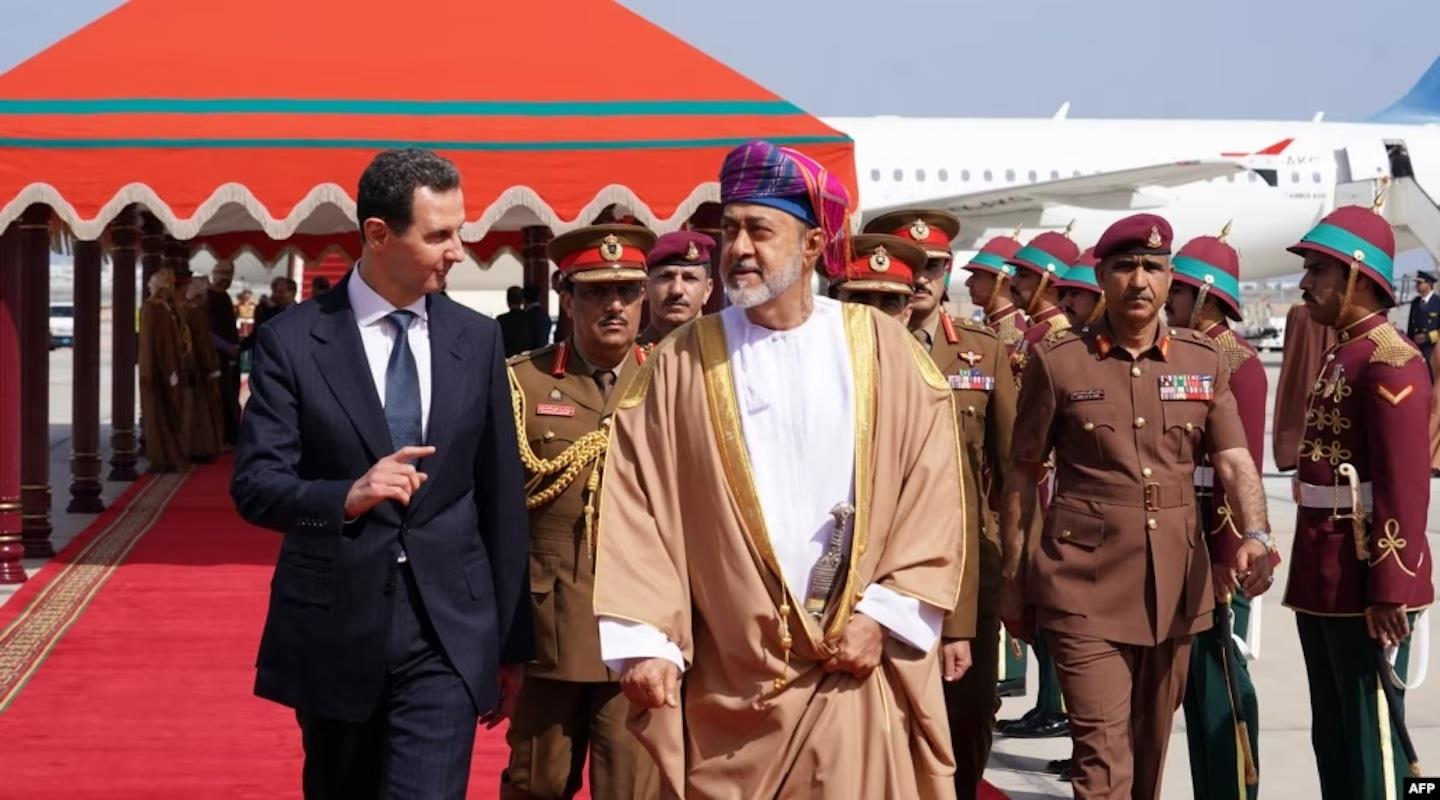 Embattled Syrian President Bashar al-Assad is experiencing an active diplomatic breakout in 2023. This reflects a growing stance by many regional players to re-normalize diplomatic relations with the Damascus-based regime. Syria's return to the Arab League is the natural next step in this process, reflected by a rumored Saudi invite that could appear this month. But whether this occurs soon remains to be seen.
Assad's government is witnessing a diplomatic boost because of the February 9 earthquake that struck southern Turkey and northern Syria. The tragedy, killing approximately 56,000 people, facilitated an opportunity for regional states to engage Damascus in parallel with humanitarian aid efforts – coined as "earthquake diplomacy."
Thus, instead of receiving a sole Emirati foreign minister visit to Damascus in January – the first in over a year – Assad also visited Muscat on February 20 and Abu Dhabi on March 19. Both Oman and the United Arab Emirates (UAE) have retained relations with Assad for years, with the latter spearheading much of the regional push to bring Syria into the Arab fold. In parallel, Syrian Foreign Minister Faisal Mekdad met his Egyptian counterpart in Cairo on April 1 for the first direct talks since the start of the conflict.
Then, on April 12, Syrian Foreign Minister Faisal Mekdad made an unprecedented surprise visit to Riyadh – also the first since the conflict began. Meeting his Saudi counterpart, the talks focused on "efforts to reach a political solution in Syria . . . and to facilitate the return of refugees." Captagon smuggling – a major concern for Riyadh given the drug's increasing prevalence across Saudi society – was also discussed. The two countries also agreed on a roadmap to restart consular services and flights.
Following the meeting, Saudi Arabia hosted the foreign ministers of its fellow Gulf Cooperation Council countries – the UAE, Qatar, Oman, Kuwait, and Bahrain – alongside Jordan, Egypt, and Iraq. The meetings focused on establishing an Arab consensus for Syria's return to the Arab League, a pan-Arab regional organization. Reportedly, Qatar, Kuwait, Morocco, and the Internationally Recognized Government (IRG) of Yemen are against such a return, with Egypt also holding some reservations.
The meeting did not produce a consensus. Rather, the Saudi Foreign Ministry released an official statement confirming efforts to hold "intensifying consultations among Arab countries to ensure the success of these efforts." It should be noted that Egypt and Kuwait's stances appear soft, with the former likely easily swayed by Riyadh given it is also engaging Assad and the latter supportive of any consensus to invite Damascus to the May summit – though the nature of that consensus was left vague.
This rapid series of events is telling. Riyadh's shift on Syria – as well as its speedy diplomatic efforts – likely reflect the country's desire to lead on the issue moving forward. In this regard, Saudi Arabia carries weight as a regional powerhouse and an original supporter of the Syrian opposition. For the country to shift on the issue this rapidly – reflecting previous Saudi calls for a change to the status quo – suggests it sees space for an Arab League consensus on Syria.
That said, the lack of any decision or joint statement following the consultations in Riyadh speaks to the difficulty of the effort. If true, the number of countries reportedly against Damascus's return to the regional body reflects an increase in opposition to such a decision. Qatar stands out as the leader of the opposition group in this regard, with Qatari Prime Minister Sheikh Mohammed bin Abdulrahman Al-Thani repeating on April 13 that "there were reasons for the suspension of Syria from the Arab League and the boycott of the Syrian regime in that time, and these reasons still exist."
He added: "We don't want to impose solutions on the Syrian people, the people need to reach them, there must be a political solution for the Syrian crisis. [Qatar's] individual decision is not to take any step if there is no political development or solution to the crisis."
Qatari rhetoric complicates any Arab League invitation to Assad's government given the lack of an Arab consensus. Further, it reflects Qatar's rigid Syrian stance and its independent foreign policy streak. Indeed, Doha does not tow lines concerning Gulf foreign policy decisions, as the 2017 blockade proved. It is also arguably the strongest supporter of the Syrian opposition besides Turkey, its close ally.
However, much has changed in recent months that could alter this dynamic – namely Ankara's ongoing discussions with Damascus. Turkey-Syria re-normalization talks, ongoing for over a year, are critical in this regard. To be sure, these negotiations have failed to produce tangible results due to the disinterest of both parties – but particularly Assad – to shift maximalist demands. But in this context, Saudi engagement with the Syrian government could impact the talks, especially given Riyadh's increasing influence over Ankara due to recent currency influxes to prop up its ailing economy. Regardless, the fact that these parties are engaging each other to effectively end the Syrian war is not lost on Qatar.
This begs two questions: has Doha's position shifted given Turkey's re-normalization talks with Damascus? In parallel, will Riyadh explore this dynamic to get the Qataris to accede to the Arab League issue?
Presently, it is difficult to foresee these dynamics playing out soon. While the natural progression of diplomatic engagement on Syria linearly includes Saudi-Syrian re-normalization, Qatar accepting Damascus's return to the Arab League, and an eventual Syrian return, this series of events feels unlikely in the near term. Indeed, if Doha stands by its statements against Assad's return, Riyadh would be forced to break precedent – namely the "Arab consensus" issue on membership – to include the Syrian government in the May Arab League summit.
Without unanimous support, it is unclear if the Saudis can force an embattled Assad invitation. If additional states truly stand with Qatar against this outcome, it becomes even more difficult for Riyadh to justify any unilateral move. Still, Saudi Arabia could try to isolate Doha by working diplomatic channels with the other holdouts – something it appears to be doing with Rabat.
Yet this approach may be limited to what Riyadh can offer Doha to shift its position over time. For this reason, should the Kingdom honor the Arab consensus standard and not welcome Damascus to Riyadh in May, it could simply re-normalize relations with Assad and continue to press Qatar and regional leaders for progress on the Arab League issue.
Riyadh ultimately holds the key to Syria, but understanding how future events play out first requires re-normalization between the Kingdom and Assad regime. Time will tell when events progress – possibly in the form of a heads-of-state meeting in 2023.
--
image source: VOA.
__________________________________

Orion Policy Institute (OPI) is an independent, non-profit, tax-exempt think tank focusing on a broad range of issues at the local, national, and global levels. OPI does not take institutional policy positions. Accordingly, all views, positions, and conclusions represented herein should be understood to be solely those of the author(s) and do not necessarily reflect the views of OPI.